About Morgan Motors
We pride ourselves on the reputation for excellence we have built in Issaquah since 1987. Our emphasis on honesty and professionalism in auto repair is the corner stone of Morgan Motors. When you bring your vehicle in for service you know that what you are told is factual and that when you come to pick your vehicle up, the work you have asked us to do has been done properly!
Our technicians have over 60 years of combined experience of auto repair and we make sure that they are versed in all the latest techniques of expert auto care. This assures you of expert work.
Award-Winning Service!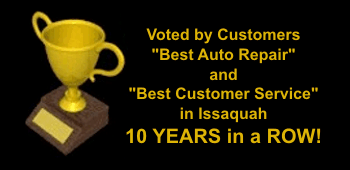 Morgan Motors recently won the awards for BEST AUTO REPAIR SERVICE and BEST CUSTOMER SERVICE for 2014 by the Issaquah Press, both for the 10th year in a row! Thank you to all the people in Issaquah who voted for us!
We do the simple oil change/lube servicing as well as the major engine repair that some vehicles need. If it is bodywork or tires that you need we will be happy to direct you to a company that has the same philosophy we have.
When you get behind the wheel of your vehicle you do so with the confidence that your car will run like you expect it to run. If it is references you want we'd love to give you a list.
We do work on time and on schedule. Call us or contact us online to schedule your next service appointment with Morgan Motors.